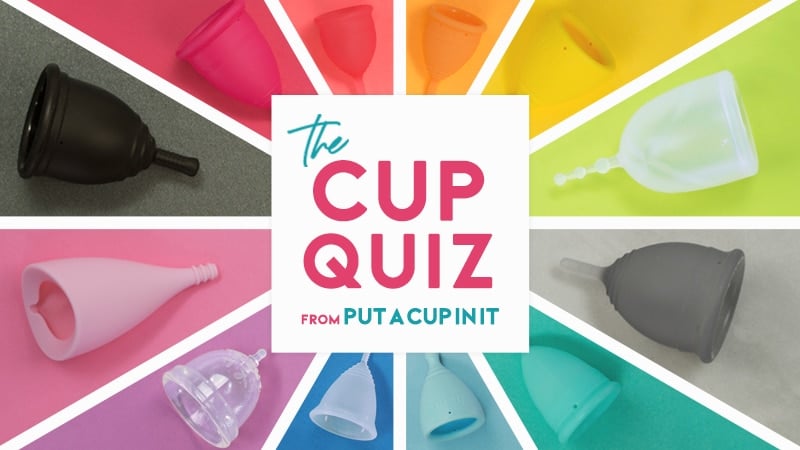 We've combined our extensive menstrual cup knowledge with our Menstrual Cup Comparison Chart to created the original and most accurate menstrual cup quiz (we know, we've polled!) to help point you to the best menstrual cup for your body, age, history, activity level, and more. Our goal is to help you find a cup that will work for your needs the first time!
We invite you to take this easy to use quiz, even if you're a cup user but especially if you aren't!  We have included questions to address the most common complaints about period cups, in the hopes that the answers will lead you to a better cup for you.
Before you take the quiz please keep a few things in mind:
1.  We are NOT doctors.  We are advocates with decades of combined experience as cup users and countless hours talking with other users and learning from their experiences.
2.  For the best results, answer questions based on your average – not doing so will cause your answers to be less accurate, resulting in a less than perfect cup. Keep in mind that It's not abnormal to empty your period cup more often on heavier days.
3.  We can help! If you take the quiz and only receive a suggestion for a cup you use/have used and didn't love send join our Facebook community! Our quiz works for most people, but bodies are complex! We have a lot of tricks up our sleeves — some we even use ourselves to make our own cups leakproof, and would love to help you make your cup work.
The menstrual cup quiz is embedded above this text. If you cannot see it, please make sure you have cookies enabled or try another browser or device.
What is the best menstrual cup / period cup for you?
We are often asked what the "best menstrual cup" is and the inconvenient truth is that it is really all about what works for your body and your lifestyle. We wish it were as simple as us telling you our favorite or asking a friend what works for them, but that's just not the case. Our quiz was thoughtfully designed to help make choosing a cup as simple as possible while also helping to increase the odds that your first cup will work for you.
Our advice is to take the quiz and if you have questions or still need support, join our menstrual cup community on Facebook to get experiences and feedback from nearly 100k menstruators.
We are open to suggestions on future edits based on your experience.  Please email us admin@putacupinit.com.

This is a passion project that we hope will help thousands find their ideal menstrual cup to make the switch successfully from Day 1 or improve their current cup experience. We do have paid, working relationships with most of the brands featured but they in no way impact what cups and brands are included in the results. We have also used affiliate links in our quiz, so if you purchase one using them we will receive a small percentage, so thank you!
I suffer from endometriosis and have more than average bleeding per month. I was so sick of using pads and tampons! I had tried using the generic store bought menstrual cups and they were uncomfortable. Using your quiz helped me find the perfect cup for my body and it has literally changed my life!
I took the quiz, admittedly purchased the cheaper of the two suggestions, (Lena) and used it for the first time last cycle. It was LOVE. I have been recommending to all!
After feeling extremely overwhelmed with all the cups on the market, I stumbled across the PACII quiz--It narrowed down my choices and gave me two or three cup brands that would better fit my body. I felt much better equipped to make a choice among the cups after taking this quiz!
Join Us!
In our Facebook community for support, events, updates & more!