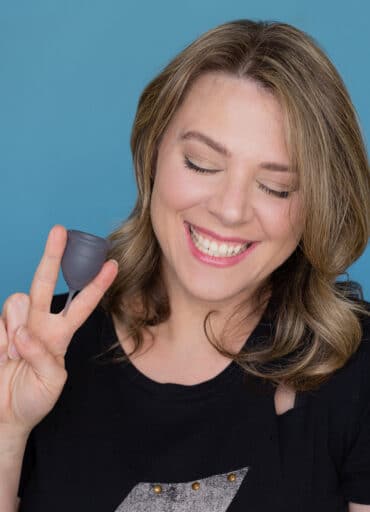 Hi, I'm Amanda Hearn, owner and founder of Put A Cup In It. I'm a self-taught graphic designer, content creator, and editor here at Put A Cup In It.
Growing up, periods were barely spoken about and as a result I found everything about them to be embarrassing. I wanted nothing to do with any of it and never imagined I'd be publicly talking about all aspects of menstruation. The short story is that I tried a menstrual cup and got pretty angry at the gaping holes in period education. I wanted better for younger me and knew that I could help change that for others moving forward. I began creating tools and resources to help provide access to information in an approachable way so that others can make informed decisions and have a safe space to talk about these things. I've been a menstrual health advocate for nearly 15 years — and I wouldn't have it any other way.
You can email here and find me on Instagram @PutACupInIt or on my personal, and sparsely updated Instagram, @amandahearnaf
Put A Cup In It, LLC PO Box 40, Kings Mills, OH 45040
Put A Cup In It » Social Media
Helpful Links & Resources
Amanda Hearn is the founder of Put A Cup In It, a revolutionary platform breaking taboos surrounding periods and empowering individuals to make informed choices about their menstrual health. Driven by a desire to make period information approachable and accessible, Amanda has been a vocal advocate for menstrual health for more than a decade. With a focus on sustainability, Put A Cup In It is the leading resource for comprehensive and inclusive menstrual education and advocacy.
Tap photo for full size version.
Put A Cup In It » Stock Photos
These photos are free to use for editorial use under the following conditions.
Attribution — The attribution " Photo courtesy of Amanda Hearn at Put A Cup In It " must be included and properly linked to putacupinit.com (or, if shared on social media, the photo needs to be tagged to our account @putacupinit)
Use Does Not Constitute Endorsement Or Recommendation — Photos may be used in any reasonable manner, but not in any way that suggests the licensor (Put A Cup In It, LLC / Amanda Hearn) endorses you or your use.
Non-Commercial — These photo are intended for editorial use only. You may not use them for commercial purposes in any way.
No Derivatives — If you remix, transform, or build upon the material, you may not distribute the modified material. Photos may be cropped to necessary sizing for editorial use.