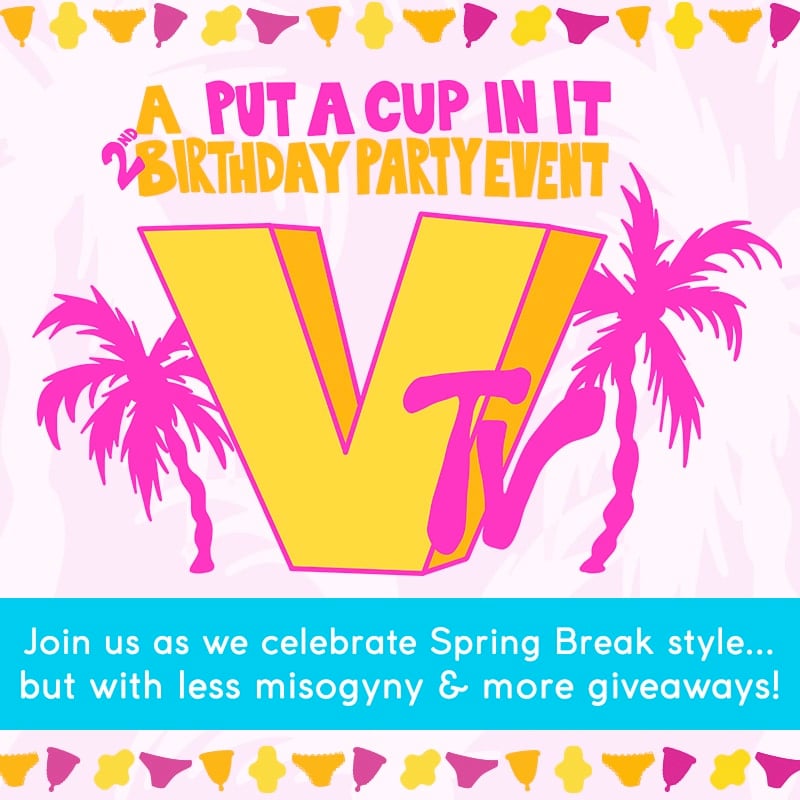 When we realized our website would be turning 2 years old in April it was clear we had to celebrate this milestone in a big way. We're so thankful to be able to do work that we love and that makes a difference. Your support is everything, so all week long you will find us giving away reusable menstrual products (we're talking cups and pads galore!) on Facebook & Instagram.
You're in for a special party! We wish we could fly all of you in our time machine to 1997 so we could hit up MTV Spring Break in Panama City. 20 years ago that was the party to be at, this year Vtv is where it's at! Think of it as Spring Break with less misogyny and more giveaways 😂
Our list of sponsors is incredible so try not to faint while you head bang to Firestarter by Prodigy.
Intimina
Lunette Cup
Organicup
LunaPads
Ruby Cup
XO Flo
Lena Cup
OMG right? We will be hosting 1 or MORE giveaways each day on Facebook & Instagram with prizes from these brands who love us as much as we love them! There are so many goodies to give away, we may even have some special PACII items too. Our Instagram history will give you a hint 😉
So put on your white bikini, oversized matching white jacket, and pluck your eyebrows pencil thin — we are totally psyched to party with you like it's 1997, all week long! To help you get into the mood enjoy this playlist with a few 1997 Spring Break artists plus songs from the year that will definitely bring you back (unless you're too young to remember!)
Menstrual education with a twist by Kim Rosas & Amanda Hearn. Thanks for being here!
-
Kimanda
Latest posts by Put A Cup In It (see all)