On July 1 a new menstrual cup brand was announced, called Lena Cup. This brand is made in California and has been registered with the FDA. I was was sent a Size Small and Size Large to test and have compared it to other cups in order to help those of you who may be interested but who don't have enough information on it yet. Right now it's only on Amazon.com in the US for now.
The Lena Cup size Small and Size Large differ greatly, as shown above. For those already familiar with other brands this cup is similar to the Sckoon and Fleur cup brands in many ways. It has a firmer bottom than Sckoon and is comparable in firmness and shape to Fleur. The stem is very flat and thin. There are no seams in this cup. The Small will hold 25 ML and the Large will hold 30 ML. Look for The Eco-Friendly Family (one of our PACII Posse) to add this cup to her incredible Menstrual Cup Comparison Chart soon.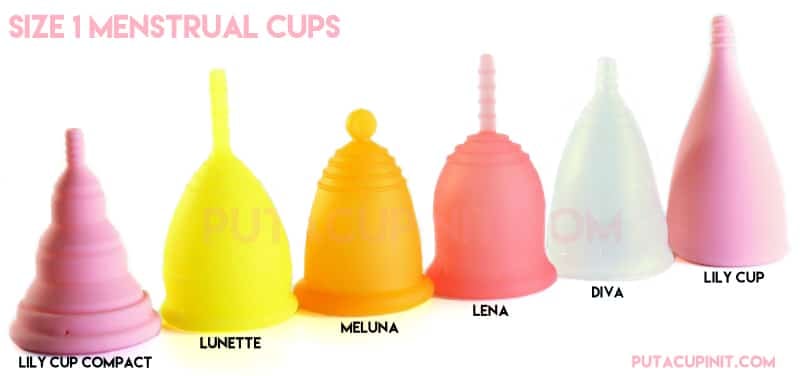 I've lined up several Size 1/Size Small/Size A cups in the brands I had on hand. In this Small line-up we have Lily Cup Compact, Lunette, Meluna, Lena, DivaCup, and the standard Lily Cup.
I've also lined up sever Size 2/Size Large/Size B cups in the brands I had available to me. Lily Cup Compact, Moon Cup (US version), Sckoon, Lena, Meluna, DivaCup, and Lily Cup are represented here.
The PACII crew are really excited about the potential of this cup as a higher capacity, bell shaped cup with a firm bottom. We believe it will be a "Goldilocks" for many women, and possibly even ourselves! It will be about 2.5 weeks before I'm able to test drive this one so for now I can only examine it by touch and not function.
Latest posts by Put A Cup In It
(see all)