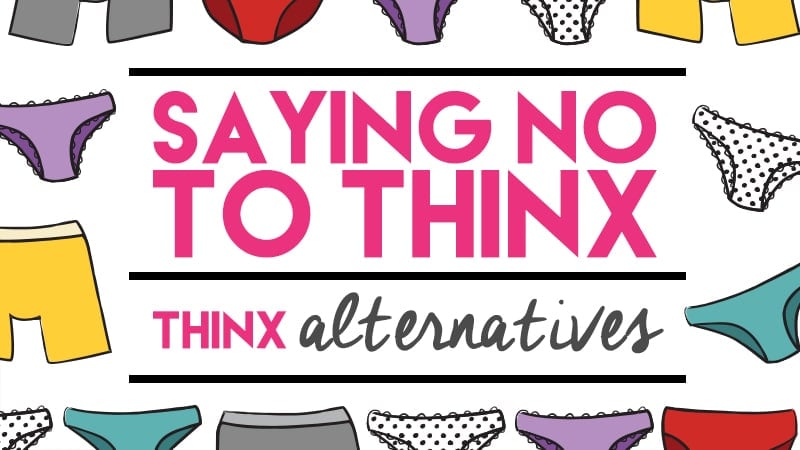 The secret is out — THINX isn't the feminist utopian company they claimed to be. Miki Agrawal, founder and former CEO, has now been accused of mistreating vamployees in various ways; one employee has even come forward to accuse her of unwelcome sexual advances. Day by day new accusations are coming to light as employees find the courage to face their aggressor — this is still a developing story.
Miki has responded to the accusations with no apology or accountabililty by throwing her hands in the air to essentially say "I was working super hard and not paying attention." PACII has been quietly taking a stance against THINX since last summer by no longer promoting any of their products. We originally came out against the company in May 2016 by sharing the stories of bloggers and influencers who had bad experiences with their referral program. While we could have (and desperately wanted to) say more about the company and why we couldn't support them we decided to hold back. It was already incredibly hard to come forward against a company that the outside world was heaping boundless praise upon as the savior of all menstruators and the taboo busting Jesus of period products. Sadly, we have had multiple people in the industry tell us in confidence things that confirmed the "off" feelings we had about the company's founder all along.
Now that there is public evidence to support the "icky" feelings we had about their marketing that used feminism and transgender issues as steppingstones for marketing success we are here to help you find alternative brands worth your hard earned dollar bills. TBH we are pretty much on team #anythingbutTHINX and hope our list will help you find your new favorite period underwear.
No, THINX didn't invent the period panty. Aisle (formerly Lunapads) did. THINX just had the seed money and marketing prowess to have their product burst through the taboo and into your underwear drawer. Meanwhile LunaPads have kept on trucking and innovating their own underwear offerings.
What We Love About Aisle Period Underwear: They come in a boxer brief style and if you love that lacy look they offer that, too. Some versions even offer loops that secure an additional cloth liner/cloth pad that can be changed out if you want to use them full time. Their underwear uses 100% organic cotton for absorbency.
What We Love About Aisle: Other than inventing the period underwear LunaPads is a socially and environmentally conscious company that puts their money and actions where their mouth is. LunaPads went through the rigorous work of being B Corps certified and they endorsed the start-up of AFRIpads. AFRIpads is a Ugandan pad making company now employing over 100 women who made cloth pads based on the LunaPads design. They also participate in One4Her with their purchase matching program. You can read up on their efforts here: Aisle Values.
Size Range Offered: XS-3XL
Styles Available: Boxer Brief, Brief, Bikini, Hipster (various colors and materials)
Price Range: $40+
Aisle ) is Made in Canada
What We Love About WUKA Period Pants: They buck traditional lace designs and come in gender-neutral styles that anyone can appreciate and feel comfortable and confident in.
What We Love About WUKA: WUKA is registered with the Vegan Society, they eco-friendly fabrics, and are committed to their ethical foundations and being socially responsibile.
Size Range Offered: XS-XL
Styles Available: Bikini, Brief, & matching Bralette available
Price Range: $25.00+
WUKA Designed in UK and Made in China
A newer brand to the market, and one we haven't tried yet, Dear Kate is a brand that focuses more on athletic options. They offer a ton of styles, including yoga pants, and coordinating bralets.
What We Love About Dear Kates Products: The brand offers their products in sizes up to 3X!
What We Love About Dear Kates: We love their website presentation and the many styles they offer but we do wish we knew more about the company itself. Their website is pretty bare about the company and their technology. We reached out to ask about any additional chemicals added to the fabrics made with "Underlux technology" and are waiting to hear back.
Size Range Offered: XS-3XL
Styles Available: Hipster, Thong, Brief style cuts available in Basic, Fancy, and Sport designs in a wide range of color options.
Other Products: Yoga Pants with their Underlux technology and Bralets to coordinate with underwear selections.
Price Range: $32-$44 per underwear. Bralets $48 and Yoga Pants $99-$109
Dear Kates Made in USA
What We Love About EvaWear Stain Free Period Underwear: They made a seamless option and all varieties are budget friendly.
What We Love About EvaWear: This is a no frills kind of brand without a social justice agenda or cause. You're here to buy affordable period underwear, period.
Size Range Offered: XS-XL
Styles Available: Hipster, Brief, Bikini, Boxer brief
Price Range: $18.95+
EvaWear Made in China
What We Love About Lilova Period Proof Underwear: While they don't offer a boxer, we love the simple black designs with optional color accents that look sexy but not overly frilly
What We Love About Lilova: They offer one of the best size ranges on the market
Size Range Offered: XS-3X
Styles Available: Thong, Bikini, Hipster, Hip-Hugger, High-Waist
Price Range: $24.00+
Lilova Made In China
Latest posts by Put A Cup In It
(see all)