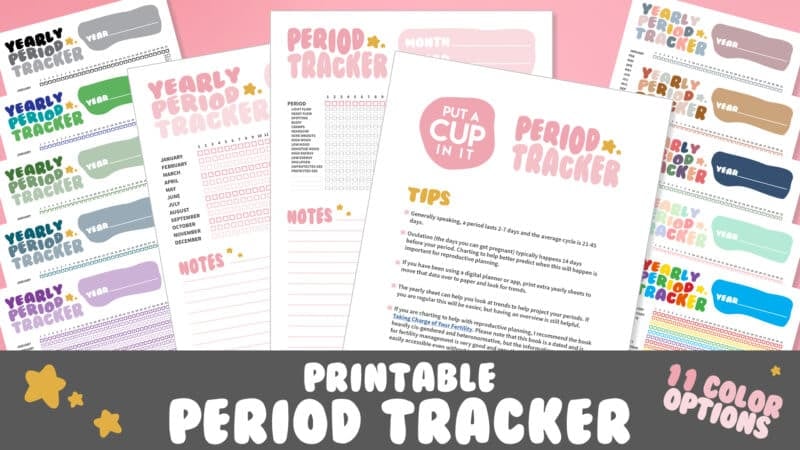 I hope the position here at Put A Cup In It is pretty obvious, but I want to make it very clear that the recent ruling to strip away our rights is devastating and the worry for what it may mean for other rights as well. I support your right to choose, your right to privacy, and want to do my best to support you in making informed decisions regarding your menstrual and reproductive health.
Growing concerns over the safety of period apps and digital records have many choosing to delete their data from these apps, turning to pen and paper methods for tracking their periods. The information coming from some apps is encouraging, but it seems complicated to say the least. 
I don't have the answers on the legal complexities of data access and even the legal sources I've turned to seem conflicting. I think the answer is simply that we don't know yet, and that's stressful and scary.
To help make some of this suck a little less, I turned to design both as a means of calming my brain and to hopefully be useful in some way. This period tracker is my gift to you. I hope that it helps provide you with something that's at least fun to look at and might also provide you with a modicum of control and peace when it comes to the safety of your information.
Pages:

Intro Page (with very basic/general info & tips)
Monthly Period Tracker
Yearly Period Tracker

File Size: 18MB
File Type: PDF
Color Options: 11 💛
Pages:

Intro Page (with very basic/general info & tips)
Temp Tracker — Up to 40 Days
Temp Tracker — Up to 54 Days
(landscape orientation)

File Size: 27MB
File Type: PDF
Color Options: 11 💛
Thanks to the requests and suggestions from our community, I have added temp tracking sheets to this resource.
If you'd like to chart your temp you will need a basal body thermometer. Ovulation test strips would be helpful as well but aren't required.
If you need assistance or are looking for organizations to support there are links below (I welcome suggestions for inclusion, so please feel free to reach out)