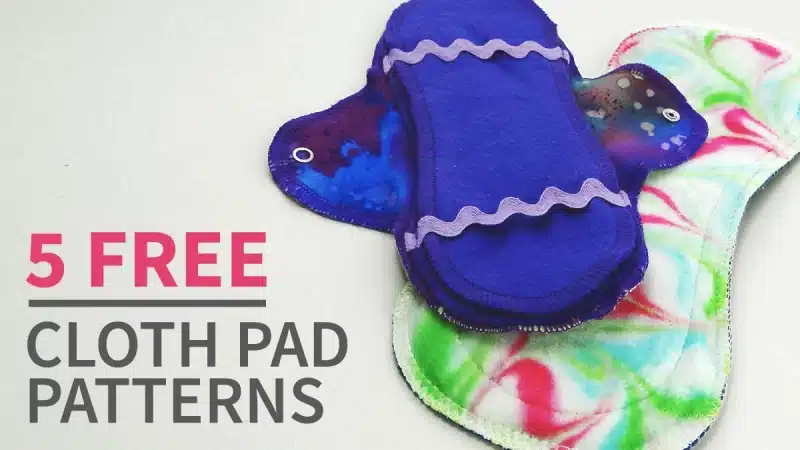 Making the switch to reusable menstrual products is a great way to reduce waste and save money. One popular option is cloth menstrual pads. Cloth pads are comfortable, eco-friendly, and can be easily made at home from fabric you have on hand (seriously. old cotton shirts, blankets, etc. will work.)
To help you get started on your sustainable journey, I've put together a list of absolutely free cloth menstrual pad patterns available online. Simply choose your favorite design, gather your materials, and get sewing!
5 Free Cloth Menstrual Pad Patterns
The Eco-Friendly Family
These free cloth menstrual pad patterns are actually from my old blog. Fun fact, that's where the menstrual cup comparison chart that started this whole site came from (way back in 2012!)
You'll find two free PDF patterns: regular day pads/liners and heavy/nighttime pads.
The patterns include seam allowance and can be easily customized by altering the number of layers for desired thickness.
The tutorial offers fabric suggestions and step-by-step instructions.
Suitable for both beginners and experienced crafters.

If you'd like to access a fully updated and improved pattern, we now offer one that includes an x-large/postpartum option!
Luna Wolf
This is a collection of cloth menstrual pad patterns and an accompanying in-depth photographic tutorial created by a former cloth menstrual pad maker.
The patterns include a pantiliner, 8.5-inch pad, 9-inch pad, 10.5-inch pad, and 11.75-inch pad.
The tutorial offers fabric suggestions, an absorbency guide, clear photographs, and step-by-step instructions.
Suitable for both beginners and experienced crafters.
Simply Living Well
This pattern is for a reusable cloth menstrual pad made from fabric scraps, designed to be eco-friendly and cost-effective.
The finished pad measures 9.5″ x 7″ (including wings) and requires fabric for the top and bottom layers, as well as inner layers to serve as "soaker" pads.
The number of inner layers will depend on the individual's flow.
Also good for beginners.
Simple Life Mom
This homemade cloth menstrual pad pattern is a reusable and eco-friendly alternative to disposable pads.
You can customize the number of inner layers to suit your needs, with 1-layer pads for lighter days and 4-layer pads for heavier days or nights.
Suitable for beginners.
ActionAid
This reusable sanitary pad pattern is an eco-friendly and cost-effective alternative to disposable menstrual products, using a method taught in Nepal as part of ActionAid's work to end period poverty.
This pattern is very simple and can also be made from fabric scraps.
Also suitable for beginners.
Cloth Menstrual Pad Video Sewing Tutorial
While not gender inclusive, this is a thorough tutorial and uses the first pattern listed here.
Washing & Caring for Reusable Cloth Menstrual Pads
Reusable cloth menstrual pads are easy to care for. They can be washed and dried in the washing machine, much like regular clothes. Here are some tips:
After use, rinse the pad with cold water as soon as possible. This will help to prevent stains.
Wash the pad in the washing machine on a cold cycle with regular detergent. (Personally, I'd keep strong fragrances to a minimum to prevent irritation.)
Do not use bleach or fabric softener, as these can damage fabrics and cause them not to absorb as well (this is true for your towels, too!)
For longevity (as with all fabrics), air dry the pads or tumble dry them on low to medium heat.
With proper care, your cloth menstrual pads can last for years!
Advantages & Benefits of Cloth Menstrual Pads
Sustainability: Reusable cloth menstrual pads are a sustainable option because they can be used over and over again instead of being thrown away after each use. This helps to reduce the amount of waste that is produced from disposable menstrual products.
Cost-effective: Reusable cloth menstrual pads are a cost-effective option — especially if you make your own! Either way, because they do not need to be replaced as often as disposable menstrual products, they will save you a lot of cash over their lifetime (and you won't have to make a mad dash to the store when you run out!)
Comfort: Reusable cloth menstrual pads are comfortable to wear because they are made from soft, breathable fabrics. They also do not contain any adhesives or plastic, which can irritate the skin.
By making your own reusable pads, you're not only taking control of your period care but also contributing to a greener and more sustainable future. So, what are you waiting for? Grab your sewing kit and start crafting your way to a more eco-friendly period experience!
If you'd like more support on your period journey, please consider our incredible Facebook Support Community. This community for sewing cloth pads is also wonderful (and inclusive!)