The menstrual cup has been generating a lot of buzz the past few years, largely thanks to a loyal fanbase that is ready and willing to sing its praises to anyone who will listen. But if you've heard about a cup, you may be wondering what the best menstrual cup is or how to choose one. With terms like cervical height, firmness, and rim diameter the many, many choices can quickly become overwhelming.
Thankfully using a menstrual cup is actually quite easy once you get past the learning curve and the fear of the unknown. We live in a day and age where a vast landscape of information is available at our fingertips, wherever we go. Here at Put A Cup In It our entire website is devoted to creating resources that help people find a cup that will work for their body and succeed with it. So let's get started!
What Makes a Menstrual Cup The Best For You?
A menstrual cup that fits you best should:
Be Comfortable! A cup that fits correctly should be nearly or entirely unnoticeable

If you have given it a cycle or two and still feel your cup, consider trimming the stem or even flipping the cup inside out (which can change the shape or length slightly) to see if that helps.

Not leak. Note that "wiping leaks" are not uncommon and not what we are referring to

Sometimes there is a bit of blood left on the vaginal wall from putting the cup in after your period starts or from between changes. This type of visual blood is typically quite minimal and usually will not leave spots behind, but if it does you can wear a light liner or period underwear.

Stay in place without noticeably slipping down during wear

This does not include slippage while using the restroom. Pushing with the pelvic muscles can move the cup down a bit. Simply nudge it back up with a clean finger and you're good to go.
Additionally, there is no "best menstrual cup", only a best for you. There is no singular holy grail (or holy blood chalice, if you will) for every person. Vaginas are all different, menstrual flows are all different, and so our needs are all different. Just because a blogger you love or your best friend swears by a cup (that includes us, too!) doesn't mean it will be the one for you.
You may be wondering how can you find the best menstrual cup if you can't trust reviews or ask your best friend? Good question! To start, the more you know about your body and your period, the better.
What You Need to Know Before Choosing a Cup
Know your cervical height. Yeah, that is a thing you never thought you'd need to know, but here we are. The best time to measure your cervix is while you're on your period. The cervix moves up and down during your entire month's cycle and where it is during your period is what matters most for the purpose of choosing a cup. We have a video embedded below that will explain the whole process, but basically you need clean hands and you want to insert a finger into the vagina to feel for your cervix. The vaginal walls will feel a bit like the inside of your cheeks (there could be some ribbed areas, but more or less it's pretty soft) and your cervix will feel smooth but firmer like the tip of your nose, possibly rounded or slightly pointed and with an indent/small opening at the end. The cervix sort of dangles down into the vaginal canal, so you can feel past your cervix — that's totally normal. Once you find your cervix you'll decide if your cervix is "low," "average," or "high," based on our cervix guide (again, see the video below!)
Know your activity level. If you are a very active person who has, through exercise (or have done pelvic floor therapy) strengthened their pelvic floor you may prefer a firmer cup.
You'll also need to take into account your age, birth history (all full term pregnancies count), your flow, etc. These are things you should know without needing to think about it. Taking these things into account, you can now pick the best menstrual cup for you.
Choosing The Best Menstrual Cup
For starters, we always suggest taking our Menstrual Cup Quiz, which we developed specifically to help guide you to the best menstrual cup based on all of your body's unique needs. It asks nine questions that cover all of the aspects above and then some.
After taking the quiz you will be presented with a quiz outcome featuring 3-6 cups that will most likely work for you. The quiz isn't perfect but 88% of people who have taken the quiz report that they did find a cup that worked for them in their results.
There are currently more than 40 brands listed on the various quiz outcomes, and of course you can always use our other resources to compare your result cups to others you may be interested in. Our resources include important information about each cup such as the cup's length, diameter, firmness, capacity, unique attributes, and even if the brand has a charity they support. Our Menstrual Cup Comparison Chart and Menstrual Cup Compare & Shop pages are both wonderful resources for more in-depth research.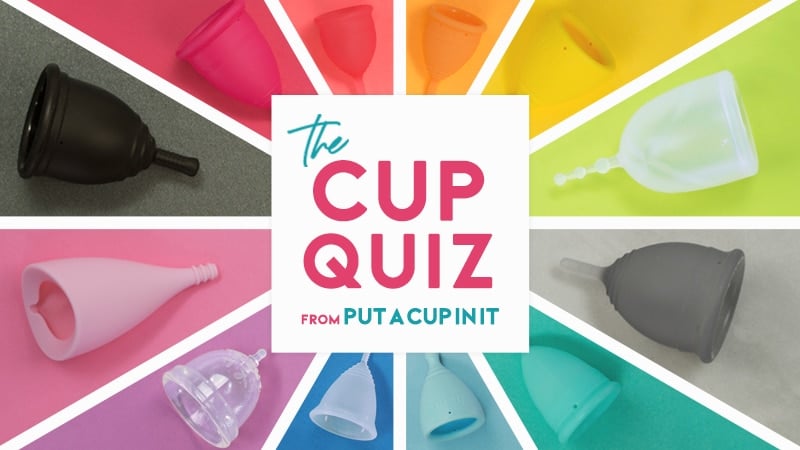 Have You Found Your Goldilocks?
If your menstrual cup is leak free, you can't feel it, it doesn't slip down, and it's easy for you to remove then you, my friend, have found the cup that is just right for you! Enjoy period nirvana! If your cup checks some of the boxes, but you want to continue looking for a cup that may be even better, utilize our many resources to assist you in your journey.

Our Favorite "Best" Average Cups
For those who aren't up for the legwork, we are happy to recommend a few of the cups that work well for most people based on our quiz data and years of combined experience in this space. The cups below are fairly average in length, diameter, firmness, and capacity. As an important, but added bonus, these brands all offer some version of a Satisfaction Guarantee. Since menstrual cups can be a significant investment, a brand that stands behind their product to provide support or a replacement in a new size or firmness can make all of the difference.
You Have a Cup, Now What?
Once your menstrual cup arrives you have to wait for your period to start, or do you? Some people take their new cups on a "dry run" to get used to the process of inserting and removing a menstrual cup without the added pressure of actually being on their period. You can add a silicone-safe lubricant to the rim of your cup, if needed. Take a look at the various menstrual cup fold techniques and take it for a spin. We recommend starting with the punch-down fold (there are others if that's not your thing) and using our helpful "how to insert a menstrual cup" & "how to remove a menstrual cup" videos for the full guide. We also offer many more videos that are useful as you're learning, you can check them all out on our YouTube channel.
Keep in mind that your cervix may not be in the same place it will be during your period. If the cup opens too soon, but still inside, it's okay to simply nudge it up rather and removing and starting all over again. Every cup user's experience will vary. Some will get it instantly and others will need a few cycles before reaching period nirvana.
If you have tried, tried, and tried and troubleshot your cup with no success it's possible that the cup you are using wasn't meant for you. It could also mean that you just need some support and a helpful tip or two. We recommend joining our private Facebook community and asking for help there. It's a group of amazing people who are at all levels of cup usage and more than willing to share what they've learned with you.
Latest posts by Amanda Hearn
(see all)